New 26-Ton Transportation Truck
The largest transportation truck in our fleet of vehicles is now on the road. Mainly used by our Event Transport team to support gigs, promotions, exhibitions, conferences and corporate events the truck has a large capacity to deliver even more. Our flagship transportation truck is fully equipped with rear-facing cameras, GPS tracking as well as blankets and straps. Our Wimbledon team monitor progress on the road as well as the road ahead.
Although a long truck the rear wheel steering becomes a huge asset when navigating its way through the narrow streets of Theatreland or a city/town. For motorway and dual-carriageways the rear steering wheels are raised if the load permits. With impressive fuel economy and emission figures, the event truck also has the latest in driver aids and safety. So no matter if we're delivering on short runs to the centre of London, or heading up Manchester or Scotland our driver will be arriving in comfort.
Large Capacity Transportation Truck
If you have a large item or a large number of items our new rigid side transportation truck has the capacity.
Maximum load of 14,000kg
9.4 (L) x 2.45 (W) x 2.6 (H) Meters – 30 (L) x 8 (W) x 8.5 (H) Feet
With an impressive full height, heavy load tail lift loading and unloading is quick and easy.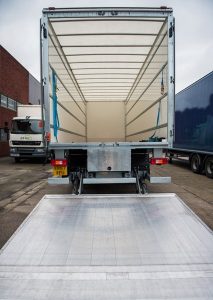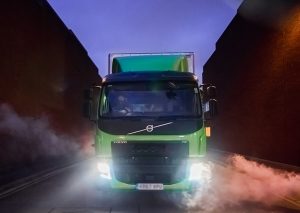 Branding our Transportation Truck
The first vehicle in our fleet with our new branding and livery has made an impact with our drivers and clients. Delivered to us in white in time for Christmas last year we then had the cab wrapped with our new green and the rigid back box fitted with a full length (nine plus meters) skin The benefit of which is that we can easily brand the side of the truck for high profile projects if required. For information on all our event trucks visit our event transport site here.
If you have a large item or just a lot of items that need delivery just speak to our team anytime on
0208 0990 247