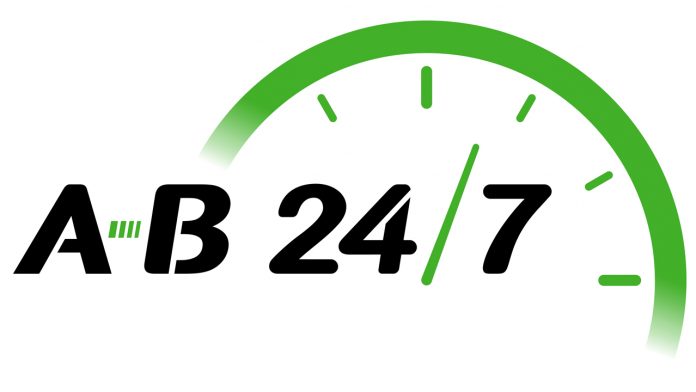 We're evolving… our new Same Day Courier Logo
We're having a good start to the new year with a great new look. We have a lot of new vehicles planned to join our same day courier fleet in the next few months so we decided this would be the ideal time for a bit of a brand make-over. It has been a while since we last looked at our logo so we tasked our marketing team to look at refreshing our logo. 2018 marks our sixth year of business so a perfect opportunity for a new Same Day Courier Logo.
Our designers went through various logo versions and suggested "some different roads we could go down", (their words… no pun intended, apparently), before we decided on this evolution of our Same Day Courier logo. The lettering has been tweaked and the radial device has had a complete overhaul. We've lost the underline and have integrated more green into the design.
How our logo has changed…
Our first logo from when we started the business back in 2012. This was designed in-house and launched our same day courier business with a couple of vans.
2015 We used a local Wimbledon SW19 London team to refresh the logo with the launch of our amended website and introduction of Event Transport services.
As well as looking at our same day courier brand mark we decided to tweak our brand colour green. A subtle change but enough to make more of a visual impact on our same day courier vans.
Vehicle Graphics
Soon we will be replacing a lot of our same day courier vans so the new year was a great point to change our vehicle graphics, so we're also going to be changing our vehicle branding and rolling this out over the next few months as new vehicles join our fleet. It's not only our vans that will be changing, with our new flagship 26 Ton event truck joining our fleet we had a very large canvass, (over 9m) to play with. Our 26 Ton Event Truck is the first vehicle in our fleet to roll out with our new branding and with another 5 new same day courier vans joining our fleet shortly they'll be carrying the new logo