We have the MAN for the job
Long wheelbase vans have always been the workhorse for our Event Transport and Urgent Delivery services. Our vans support a wide range of event suppliers, event organisers and businesses with deliveries within London, the length and breadth of the UK, as well as on occasion further into Europe.
This year (2019) had previously been earmarked as the year to review our van fleet. We knew we would have to replace some of our older vans as well as add several new additions to our fleet.
Planning started two years ago with our Directors attending the commercial vehicle show at the NEC Birmingham to review all the various vans available. They returned last year speaking to a wide range of dealers and evaluating all options. This year has been spent finalising decisions and securing an order.
A-B 24/7 are excited to announce our first batch of MAN TGE Panel Vans have arrived.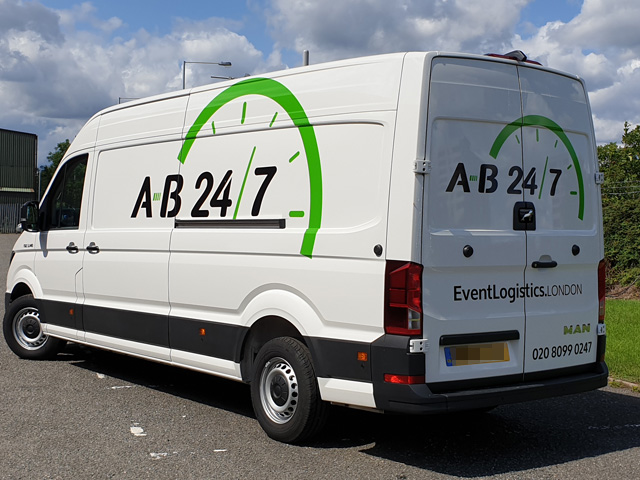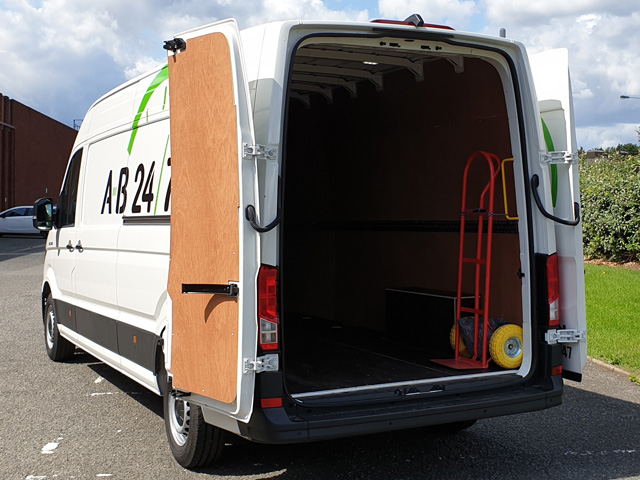 Why MAN TGE Panel Vans?
Stable technology is essential to business these days, and in-vehicle technology is just as important to us. Previously we have had older vans off the road due to a software error as well as security issues from vehicle hacking vulnerabilities. One crucial factor in our selection of the MAN TGE Panel Van is that it comes with highly-developed software and technology.
We were very impressed with the tech available on the MAN TGE Panel Vans, especially in regards to driver and vehicle safety, a high priority on our shopping list.
Some of the essential technical features from our list:
Reversing camera
Vehicle surround manoeuvring sensors
Blindspot warning
MAN TGE's also have with Emergency Brake Assist and Antilock Brake System as standard. They also come with Crosswind Assist, which ensures the vans remain in their lane, which when crossing a bridge in high winds is a great feature.  MAN came to the table with a flexible level of customisation so we could spec the vehicles with those features necessary to our business and team.
For full specs and details, visit MAN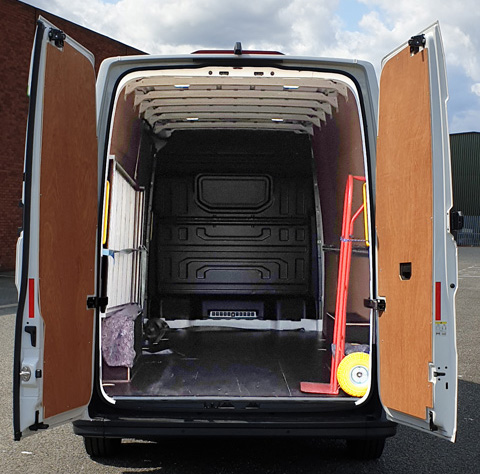 Low costs & Low emissions
We expect both excellent running economy and low pollution emissions from our fleet. ULEZ and Euro 6 compliance is the benchmark, and our new MAN vans tick all the right boxes for us.
Great support from MAN
We also require a high level of support from our vehicle suppliers. We are very impressed with MAN's commercial after service commitment. Any time a van is off the road, it affects our business, so we have to have reliable cover in place. We're a 24hour business, and we expect an equivalent level of support. MAN offered a comprehensive level of fleet management, which was a major requirement for A-B 24/7's Directors.
Happy Drivers
Feedback from our team has been hugely positive. The benefits of air conditioning, when stuck in London traffic on a hot afternoon, has gone down exceptionally well, especially during the recent record-breaking temperatures. Our specification of suitable driver aids has improved our drivers days (and nights). Taking deliveries to where there is tight access has become a lot simpler.
So, if you need Event Transport or Urgent Delivery, we have the MAN for the job.