St Patrick's Day Event Transportation
Saint Patrick's Day is a cultural and religious celebration held on 17 March to mark the  death of Saint Patrick, the foremost patron saint of Ireland. Nowadays the celebration is feted by Irish ex-pats across the world, and is synonymous with the shamrock, the colour green, leprechauns with red beards and a certain dark stout brewed in Ireland.
Events across the UK to celebrate St Patrick's Day
In London and across the UK there will be numerous celebrations held in pubs, clubs and venues to mark this auspicious day.
In England, the British Royals traditionally present bowls of shamrock to members of the Irish Guards.
Birmingham holds the largest St Patrick's Day parade in Britain with a city centre parade over a 2 mile route through the city centre. The organisers describe it as the third biggest parade in the world after Dublin and New York.
Manchester hosts a 2 week Irish festival in the weeks prior to St Patrick's Day. The festival includes an Irish Market based at the city's town hall, a large parade, as well as a large number of cultural and learning events throughout the two-week period.
London is home to approximately 176,000 Irish people who also call it by the less formal name of St Paddy's Day.
St Patrick's Day Parade: The largest celebration in London is the St Patrick's Day Parade that starts in Piccadilly and follows a 1.5 mile route that ends at Trafalgar Square. This joyous occasion features marching bands, decorated floats and traditional Irish dancers. Approximately 125,000 people will be there, with many wearing iconic green outfits, often with a Leprechaun style hat and many, doubtless lubricated a bit with a pint of Guiness!
Camden Market St Patrick's Day Takeover: This year Camden Market celebrates St Patrick's Day, including Irish music, and Irish themed pop-up bar and stalls serving street food.
Do you need transportation on St Patricks Day?
If you St Patricks day event transportation to setup a stall, move equipment or other large items (including barrels of Irish Stout!) for the St Paddy's day, then talk to A-B 24/7 Event Logistics.
We are a professional events logistics, event transportation and urgent delivery company. Based in Wimbledon, South London, we work with companies and businesses of all types to get their equipment and assets to venues across London and the UK.
We will pick up from anywhere in the UK mainland, and deliver to anywhere else, on time and on budget.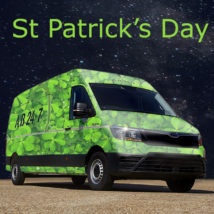 We might wrap our iconic white delivery vans to celebrate St. Patrick's day if we get enough positive feedback – let us know what you think of our concept design!