Grand Designs Live is the go to event if you're building a new home, renovating a property or looking for design inspiration on decorating your property. Presented by the design guru presenter Kevin McCloud it is an extension of his long running and much loved TV series.  This year there are two locations: 2-10 May at London's ExCeL and 7-11 October at Birmingham's NEC.
There will be over 500 companies in attendance spanning 4 project zones showcasing their talents, the latest products and eco solutions for homes.  This year A-B 24/7 Event Logistics will available to help transport goods and equipment to the show – please contact us well in advance to discuss your requirements.
Project Zones include: Build, Gardens, Interiors, Kitchens & Bathrooms.
Build:
The Grand Build Hall is filled with products and suppliers to help your new-build or renovation project. Here you'll find expert advice and all the latest technological developments.
Gardens:
Grand Gardens showcases contemporary garden products that will allow you to make the most of your space. Everything from BBQ's and furniture suitable for outdoor use, to hot tubs and spas – make your garden the focal point of your house.
Interiors:
A great interior for your home makes a property a home. In the Grand Interiors hall you'll find everything you need to inspire you as well as exclusive, beautiful products from designers.
Kitchens & Bathrooms
Kitchens and Bathrooms at Grand Designs Live offers the opportunity to see the latest trends and state-of-the-art appliances and design solutions from well known brands.
Event Transportation for Grand Designs London
Are you or your company exhibiting at the Grand Designs Live exhibition at the EXCEL in London? Do you need help transporting equipment, stands, products and promotional materials to the event between to 2 and 10th May?
Then you need to contact A-B 24/7 Event Transportation, one of the leading event transportation and logistics companies based in London. We have a solid track record of transporting goods for businesses of all kinds from anywhere in the UK to the Excel centre in London.
Our fleet of dedicated vans and trucks will take the stress out of getting your equipment to the show on time; we'll pick up and deliver your goods to the venue on time so you don't have to worry about hiring a van, getting lost in the busy one way systems in London, and avoid congestion charges and loading bay problems. We'll take care of this for you.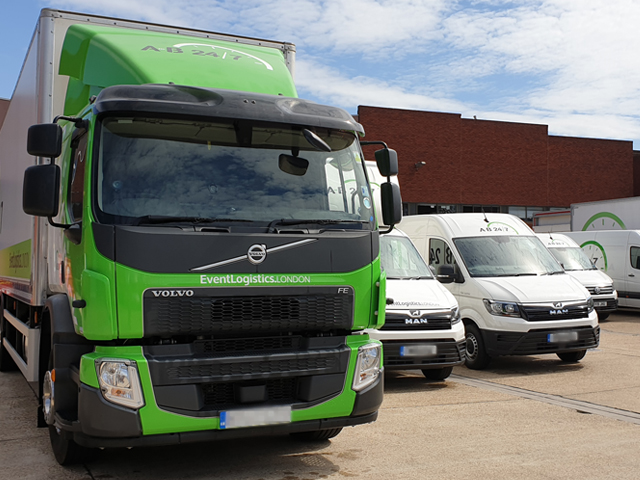 VISITING INFO – LONDON
Opening Times: 10am – 6pm: 2, 3, 8, 9, May
10am – 5pm: 4, 5, 6,7,10 May
Book your tickets by clicking Here
Please note: A-B 24/7 Event Logistics are not associated with, or endorsed by, Grand Designs Live.
Excel London WTM, Royal Victoria Dock, 1 Western Gateway, Stoke Newington, London E16 1X