RHS Chelsea Flower Show 2019
From  to 
World-renowned, glamorous and quintessentially British, RHS Chelsea is a truly unique and unforgettable day out.The world renowned RHS Chelsea Flower Show returns to the grounds of Royal Hospital Chelsea from 21-25 May 2019.
The very best of garden design, growers and nurseries meets stylish dining and retail therapy for a truly unforgettable day out.
Chelsea Show Times:
Tuesday & Wednesday – RHS Members' Days (21-22 May 2019)
8am – 8pm
Thursday & Friday (23-24 May 2019)
8am – 8pm
Saturday (25 May 2019)
8am – 5.30pm
If you are an exhibitor at the RHS flower show in Chelsea it can be an invaluable opportunity to showcase your work and get in front of thousands of potential clients. Inevitably it will mean a lot of effort for you; months, possibly years of planning to get your design just right. You have to ensure the plants you're growing come to bloom at the correct time. Finally you need to get the plantings, soil, architectural elements and other features on site well in advance of the show to give yourself enough time to set it up.
It can be a very stressful and trying time, but if you will get lots of admiring looks and praise by the show visitors, and if you're really lucky you might also win a prestigious medal!
RHS Chelsea Flower Show | Highlights 2018
Event Logistics for Chelsea Flower Show
A-B 24/7 Event Logistics can be your trusted partner when it comes to ensuring your garden's assets get to the show on time. We can move almost anything you need from anywhere in the UK. We understand and have considerable experience getting equipment across the country on a tight deadline. As a London-based company we also know how to negotiate through the maze and congestion that is central London.
Why not consider outsourcing your delivery and pickup to and from the RHS Chelsea flower show this year? It might save you a lot of time and stress. Talk to us about your requirements by calling us on 0208 0990 247 during office hours, or contact us anytime using our contact form. Our advice is free, and we are more than happy to discuss your specific requirements and tailor a package that is appropriate for you.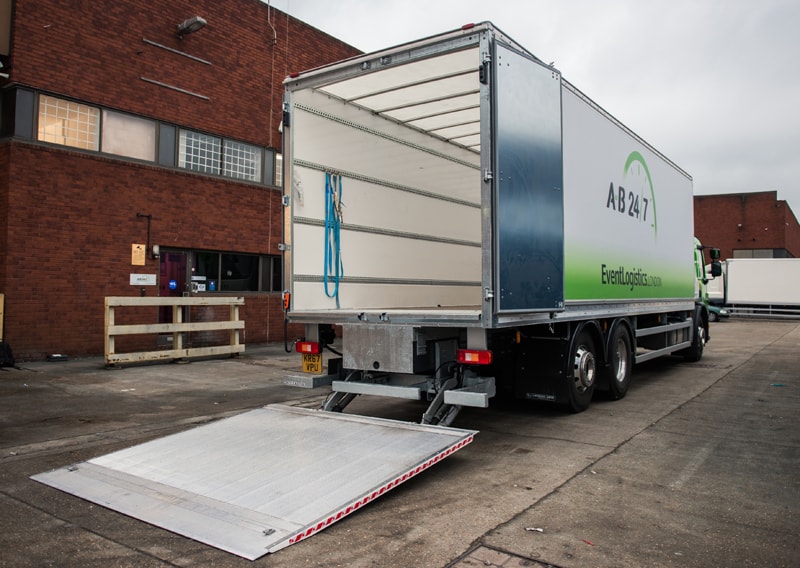 One of our larger trucks – perfect for RHS Chelsea Flower Show deliveries
Chelsea Location:
The Royal Hospital Chelsea is home to the iconic Chelsea Pensioners and, for one week only in May, is also home to the world-famous RHS Chelsea Flower Show. If you would like to attend as a visitor you can book your tickets here: https://rhschelsea.seetickets.com
Address: London Gate, Royal Hospital Road, Royal Hospital Chelsea, London SW3 4SR